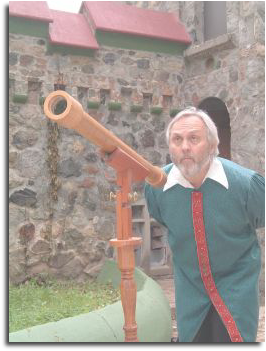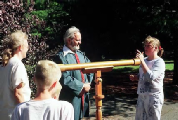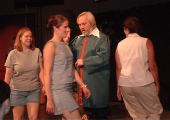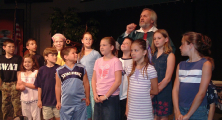 To many the Universe is a closed book of secrets never to be read. Almost four hundred years ago, an unknown court mathematician in Italy opened that book and laid the foundation for modern science. Galileo Galilei turned his telescope to the heavens to discover mountains and craters on the moon, four moons of Jupiter, and countless stars never before seen. Even more significant was his method of observation and mathematical analysis. He taught future scientists the way to discover the laws of nature.
The Starry Messenger is a dramatic fun filled adaptation of Galileo's short treatise Siderius Nuncius. Galileo (dressed in 17th century costume) arrives at your organization to present a public lecture on his most recent discoveries made using his newly devised spyglass. As he describes those discoveries, Galileo's new method of observation and measurement of nature become apparent. Throughout the presentation your esteemed scientists are actively involved in experiments and demonstrations. After the lecture at schools, Galileo visits classrooms to meet students, answer their questions and learn about the experiments of your most prestigious young scientists.
"Thank you so much for your visit. You exceeded our expectations. You captured the student's imagination and they talked animatedly of you (or rather Galileo) and your discoveries the following day. You have crafted a fabulous way of bringing the history of science alive. I very much hope that we will be able to invite you back..."
Judy Gibson, F.W Parker Charter School
"Michael was simply fantastic!! And I don't use that term lightly!! He took a Renaissance science topic and brought it entirely alive. He was obviously a gifted actor, and engaged the audience from the very first moment. He never swayed from his character role, which added to the experience."
New Hampshire Humanities to Go
"Thanks for a great evening's entertainment and enlightenment. You were the hit of the event."
Jim O'Leary, Maryland Science Center
Where's Galileo?
Galileo will be visiting New Hampshire throughout 2017 as part of the

Past venues:
. * Smithsonian National Air and Space Museum, Washington, DC
* Maryland Science Center, Baltimore, MD
* The Franklin Institute, Philadelphia, PA
* Space Telescope Science Institute, Baltimore, MD
* Illinois Science Teachers Association
* Hudson River Museum, Yonkers, NY
* Casper Planetarium, Casper, WY
* Discovery Museum, Acton, MA
* Harvard Smithsonian Center for Astrophysics, Cambridge, MA
* Nevins Planetarium, NJ for MAPS
* Carnegie Science Center, Pittsburgh
* Charles Hayden Planetarium, Boston
* Connecticut Valley Astronomers Conjunction, Masachusetts
* Grand Valley State University, Allendale, MI
* National Atomic Museum, Albuquerque
* New Hampshire Science Teachers Association
* Roper Mountain Science Center, Greenville, SC
* Roswell Museum, Roswell, NM
* complete list on request